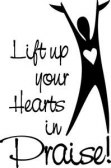 We celebrate Sunday service at 11.00 at `Mötesplatsen´/The Meeting Place, adress: Hjällbogärdet 1 (unless it says something else in the program). The services can look different from time to time, but the priority and goal, is to invite everyone to a personal encounter with God.
Time of worship & praise is an important part of the service. To lay everything aside for a moment, to invite God into the midst of our lives, to express our need for him and our gratitude because of who He is - that is what this space is about. We come in a right focus as we lay our lives down before God, with everything included, and welcome him to touch our lives with his presence.
We encourage and want to give space for the personal testimony. We believe it´s a natural and very important channel that God uses to speak currently into our lives.
Sometimes we have testimony services - then the service contains of and is shaped by personal testimonies about what God means to people and about what he has done in their lives.
At least once a month we celebrate the Lord´s supper, sometimes combined with a testimony service.
Some sunday per month we have a guest speaker. The rest of the sundays the pastor of the church preaches and also other active members of the congregation.
We always want to give good space for people to receive prayer and for the Holy Spirit to minister to people in our services.
If you have the time, `Fika´ (coffee & tea) is guaranteed after every service. To greet each other, have a chat and build relationships after the service is important to us.